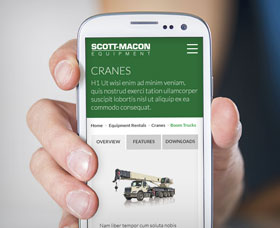 HexaGroup, a digital marketing agency in Houston, announces the launch of the redesigned website for Scott-Macon Equipment, one of the leading crane and lifting equipment manufacturers in the Gulf Coast of the United States.
The new site has a modernized look that is simple and intuitive, while demonstrating the high quality of the Scott-Macon Equipment brand.
"We were excited to work with Scott-Macon Equipment on their website redesign," says HexaGroup President, Arnaud Dasprez. "With new content and search functionalities, the redesigned site will better serve the equipment industry with specific information about the company's range of products and services."
Built for easy viewing, the site's responsive web design adapts to all device types and screen resolutions. Some of the website's other design features include new and updated graphics, a large-scale photo slider to highlight site sections, and intuitive navigational menus.
The new smequipment.com provides the most up-to-date information on Scott-Macon Equipment products and services. Site content was expanded to include specific information regarding office and center locations, news and events, and their services as an authorized dealer of Terex, Broderson, Tadano Mantis, and Demag Parts. SEO also played an important role in the site redesign, as content was optimized for search engines and users by implementing elements such as keyword research, meta data, and heading tags.
The addition of an equipment catalog database makes it easy for users to search for and view equipment available for sale and for rent. The equipment search function allows users to look for lifting equipment by condition, manufacturer, and maximum lift capacity. Search results provide detailed information about each product including specifications, images, and downloadable data sheets.
About Scott-Macon Equipment

Known for its outstanding customer support in service and parts operation, Scott-Macon Equipment's operations include the sale, rental, and servicing of a wide variety of lifting equipment, including rough terrain hydraulic cranes, all-terrain cranes, boom trucks, truck cranes, crawler cranes and industrial carrydeck cranes, specialized hydraulic crawler cranes, material handlers, and aerial lifts. Headquartered in Houston, TX, Scott-Macon has 10 additional offices and service facilities located throughout Texas, Oklahoma, and Louisiana.