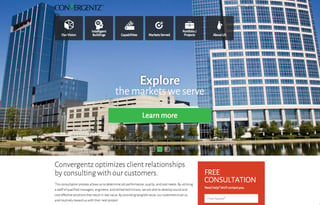 HexaGroup, a digital marketing agency in Houston, is proud to announce the launch of the redesigned website for Convergentz, a leading provider of advanced building automation integration and connected real estate solutions.
"The new site has a modernized look that is reflective of the caliber of the Convergentz brand and its capabilities in systems design and implementation," says HexaGroup President, Arnaud Dasprez. "We believe that it will improve user experience and be beneficial to anyone interested in the services that Convergentz provides."
Convergentz.com was built with responsive web design, which allows it to seamlessly adapt to all device types and screen resolutions for consistent site functionality whether viewed on mobile or desktop. Other design features include new and updated graphics, a large-scale photo slider to highlight site sections, and intuitive navigational menus.
To support online marketing initiatives, CTAs were added to the site as well as SEO techniques to optimize content for search engines. The new Convergentz.com provides in-depth information on the company's systems design and implementation capabilities, markets served, and intelligent buildings. The expanded portfolio section allows users to download case studies detailing projects where Convergentz has successfully worked with clients in the design, installation, and maintenance of comfort systems.
About Convergentz

Convergentz is a Master Systems Integrator that solves customers' challenges through customized intelligent building technology solutions.
By integrating IT and traditional building functions, Convergentz increases real estate value and establishes market differentiation for stakeholders.
Headquartered in Houston, TX Convergentz is a subsidiary of The Hunton Group, a leading company in HVAC with five locations throughout Texas and Oklahoma.