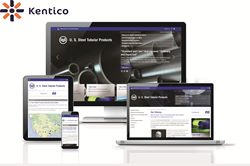 HexaGroup is proud to announce that USSTubular.com has been named by Kentico as a top website for July 2014.
A worldwide leader in integrated marketing solutions, Kentico is a Web CMS development company focused on providing the best .NET integrated marketing solutions regarding websites, intranets, and various other digital platforms.
Delivered on the Kentico platform, HexaGroup launched the new website for U. S. Steel Tubular Products earlier this year. The largest division of U. S. Steel, U. S. Steel Tubular Products has been serving the energy industry since 1901 as North America's largest fully integrated tubular products manufacturer. The innovative usstubular.com was built for functionality, interactivity, and responsiveness. It features first-of-its-kind interactive tools, an interactive Innovation and Technology Center, a Licensee Network Application, and Intuitive distributor and licensee directory.
As a Kentico Certified Partner, HexaGroup guarantees that the best in Web CMS and marketing methods is provided to their clients. The Web CMS giant's exclusive group of members and strict admittance requirements highlight HexaGroup's ongoing process of partnering with the best in the industry.
In addition to being recognized as a top Kentico website, usstubular.com was awarded the Crystal Award – B2B Website from the American Marketing Association – Houston. The 2014 Crystal Awards recognized Houston's best innovative, creative, and results – producing marketing work across a range of categories.