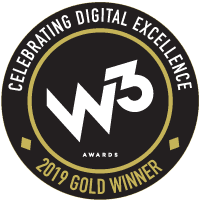 HexaGroup has earned a W³ Gold Award for its brand video promoting AerSale, a global provider of integrated aircraft fleet support and solutions.
The two-minute video showcases AerSale's services and promise to its customers – keeping their global aviation assets functional and profitable, from first to final flight.
The W³ Awards celebrate excellence by recognizing outstanding videos, websites, digital marketing, apps and social media content created by top marketing agencies and professionals worldwide.
About the W³ Awards

The W³ is judged by the Academy of Interactive and Visual Arts, a group of acclaimed professionals from well-known advertising, media and marketing firms. Members include leaders from organizations such as Conde Nast, The Ellen Degeneres Show, Fry Hammond Barr, Microsoft, Sotheby's Institute of Art and numerous others.

Judges score entries on a ten-point scale, and fewer than the top 10 percent of entries win gold awards.