HexaGroup is an official agency partner with BBN International, a top business to business (B2B) marketing group with partners in 29 countries. Uniting with BBN allows HexaGroup to serve its international clients even more effectively. Our clients get the best of both worlds – enjoying the personal attention from a local marketing agency, while experiencing the resources and support of a strong international organization.
The World's B2B Agency.
BBN is a collaborative agency-owned organisation, with every agency-partner an equity shareholder – all sharing the same genuine passion for B2B. Working together, our combined advantage means we significantly influence what can be achieved when a business talks to another business. We're proud to stand for full service capability; spanning strategy, creativity, technology and implementation.

The BBN attraction.
BBN is driven by a passion for developing and sharing industry-leading processes, systems and intellectual property. Our core strength lies in our structured approach, underpinned by focused management. With the alignment of over 1,130 people working across five continents, we collaborate daily in real time across territories to support our clients in every discipline. Our global service matrix model ensures that our clients have access to the exact skills, industry expertise and geographic footprint that they need, where and when they need it.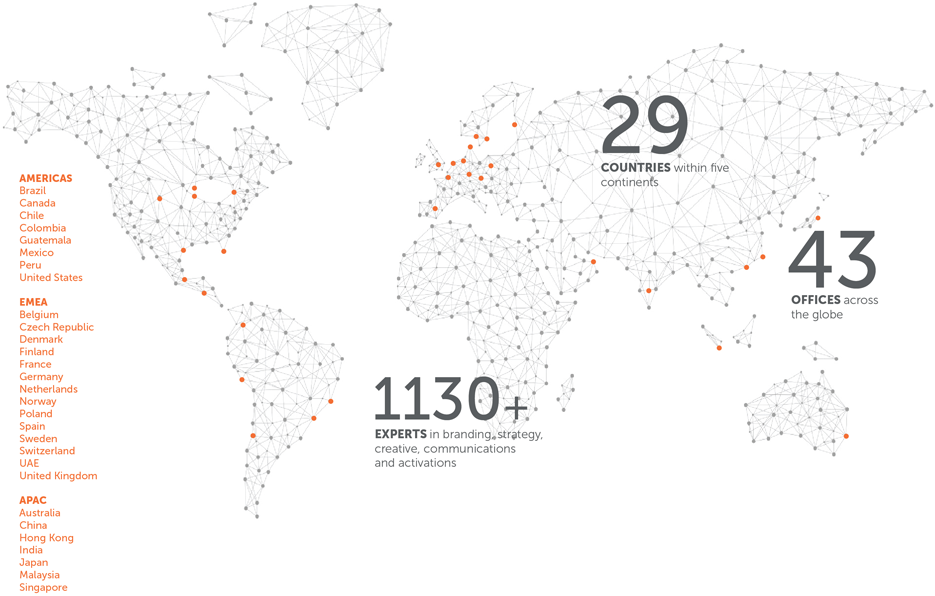 Beyond our collaboration and focus, we constantly innovate, and have created the world's only truly integrated B2B marketing toolkit, BBN Navigator. Navigator defines best practice B2B marketing methodologies, processes and tools. Enabled by our international learning and development program, it has been adopted in all agency locations.
"When we had to launch our brand communication campaign across four different countries, having access to a communication agency network was a must. BBN partners provide very professional support in terms of coordination and consistency." Etienne Bouquet, General Manager, Dow Seeds Europe
The benefits of BBN.
The BBN benefit is that clients get the best of both worlds. This means experiencing the creativity and personal attention of dealing with a locally based agency, while having the support of a large, international organisation. This combination delivers campaigns through the extensive reach of an international framework, coupled with the creative and entrepreneurial flair of independent agencies. This enables worldwide marketing strategies to be rolled out efficiently and effectively.
The future is bright.
Having just completed our most successful year in our 30 year history, we're embarking upon further expansion. To ensure the success of new international client projects we'll enter more key locations to gain more scope and integrate more agencies and clients.
Our vision to be 'the world's B2B agency' by creating the next generation of B2B is a challenging one, but we have the strategy, the plan and the team to make it happen.
BBN strength in breadth (and depth).
BBN has 21 agency partners
BBN spans 29 countries, worldwide
BBN has 44 offices
1,130 people strong, and growing
#1 in global B2B agency league table (US). 2018, revenues $135million
In the last 2 years, BBN partners have won 160 industry awards