One of today's most effective methods for growing a business, inbound marketing focuses on drawing people to your company and products through in-depth content that lives on your virtual storefront — your website. Instead of purchasing email lists or cold-calling, inbound marketing focuses on creating educational content that draws people to your website, where they can learn more about your company's offerings at their own pace. This type of content attracts visitors that are searching for information about your industry, products or services.
Our Inbound Marketing Services
HexaGroup develops and implements inbound marketing campaigns that address our clients' specific needs. We work with you to understand your brand, ideal customers and goals to create customized content marketing campaigns that generate qualified leads.
HubSpot Partner
One of our key partners is HubSpot, the best in the market for achieving your goals. HubSpot created the vision for the inbound experience and developed a strong platform to support it. With HubSpot's powerful, easy-to-use, integrated set of applications, businesses can attract, engage and delight customers by delivering inbound experiences that are relevant, helpful and personalized.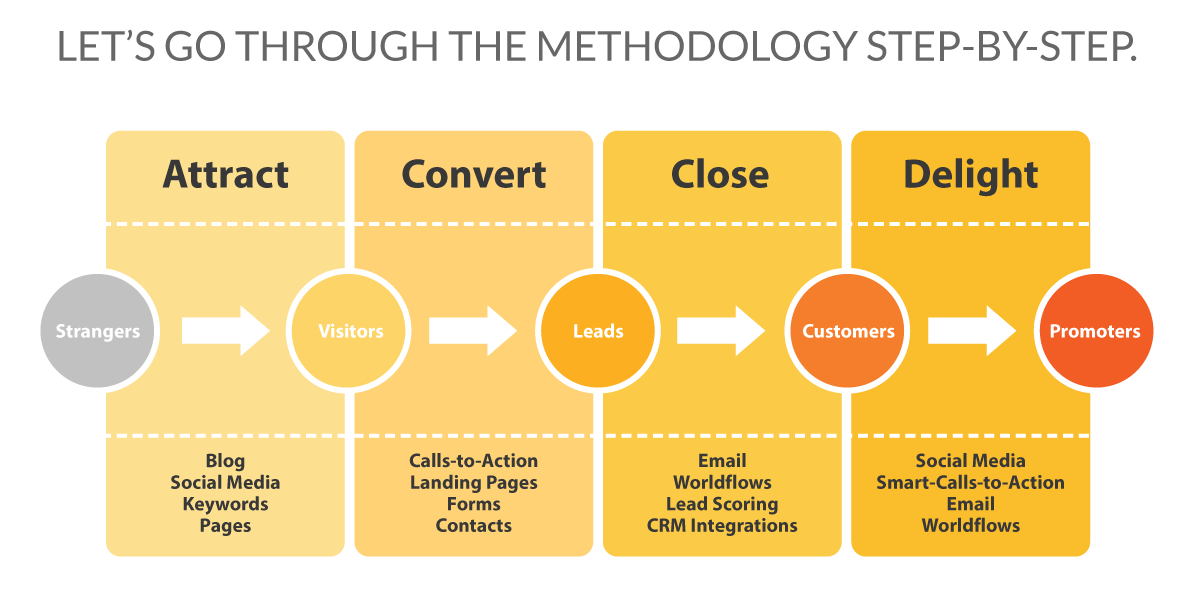 Lead Generation
Following HubSpot methodology and combining content marketing with lead-nurturing strategies, our inbound marketing campaigns help move potential customers through your sales funnel and convert them into qualified leads. We create customized content that aligns with your target audiences' interests and addresses their basic questions and needs. This type of content organically attracts inbound traffic and prospects that can be converted into customers. HexaGroup handles all the inbound content needed for your campaign, including website copy, premium content, blogging, videos, social media, email and more.
Specifically, HexaGroup's inbound marketing services help you:
Increase website traffic and leads flowing into the top of your sales funnel using content marketing and social media marketing best practices
Convert more visitors to sales leads and convert more sales leads into customers using lead generation and lead nurturing best practices
Optimize your website, landing pages and lead-nurturing campaigns to maximize conversion rates and increase sales
We then implement and promote these content marketing campaigns through multiple inbound marketing channels that approach customers where they are and in the channel where they most want to interact with you. Throughout the life of the campaign, our consultants monitor analytics and use data to maximize results so that we can deliver prequalified leads to your sales team. We also provide monthly marketing reports that detail campaign performance and the progress made toward your goals.
Why Choose HexaGroup As Your Houston Inbound Marketing Agency?

As a Houston HubSpot Platinum Partner, HexaGroup executes inbound marketing services to the highest standards. Our consultants are HubSpot certified and have experience developing B2B and B2C content marketing campaigns for startups and industry leaders. We've run campaigns for our clients in sectors such as oil and gas, real estate, finance and business and have conducted HubSpot training with our clients so they can implement campaigns themselves.

It's our goal to help you position yourself as an industry leader, build customer relationships, and present your sales offerings at the appropriate time in the buying cycle.

Talk to us about how our inbound marketing and lead generation services can help maximize conversion rates and increase sales.