Post-Covid, companies have increasingly turned to outsourcing as hiring and rehiring full-time staff has become a challenge in the current economy. Marketing is no exception. Instead of rehiring entire teams, you now have the opportunity to access the best marketing talent without the overhead.
The marketing outsourcing model offers flexibility, financial viability, agility, and modularity. You can choose a tailored retainer that suits your specific marketing needs, whether it's for specific activities or a designated number of hours to address your emerging or ad hoc requirements. We offer a modular, tiered approach with a range of packages to choose from. This ensures full accountability and utilization, all while maintaining a leaner model compared to having a full-time in-house marketing team.
Marketing Support Packages
DigitalBoost
Are you a smaller company with fewer marketing needs at the moment, or a larger one with a little bit of marketing infrastructure in place? The Starter package is designed to provide ongoing strategy and on-demand creative capabilities in a fully remote virtual capacity. Good for website management and digital campaign strategy and execution for brand awareness and lead generation.
From 80 hours per month
An account executive you can talk to daily
A dedicated creative team with experience in delivering results
8-month minimum commitment
A fractional CMO available upon request
OmniBlend
If you're seeking a dynamic team to assist with your digital marketing, event management, tradeshows, and conferences, as well as your overall strategy, our comprehensive package is the perfect solution. With our flexible approach, we can provide onsite resources available a few days a week, ensuring that your needs are met with utmost convenience and adaptability. Let us be your trusted partner in driving success across all aspects of your marketing endeavors.
From 200 hours per month
An account executive you can talk to daily
A fractional CMO for ongoing strategy
Flexible onsite presence
A dedicated creative team with experience in delivering results
12-month minimum commitment
Perfect for:
Energy and industrial services companies who wish to leverage HexaGroup's industry expertise
Businesses that are short-staffed in marketing
Organizations that believe in marketing and outsourcing and are KPI driven
Ready to start your marketing outsourcing journey? Complete the form on this page and we'll get back to you as soon as possible.
How many people do you need on your team to grow your business? Just one – HexaGroup.
As a mid-sized business, you might not be able to afford a robust, dedicated marketing team. However, to implement effective marketing campaigns, you need a group of professionals with a wide breadth of experience in innovative design, content creation, data analytics, website development and technical marketing – and that expertise is impossible to find in just one person.
HexaGroup is the integrated agency for businesses serious about optimizing their marketing performance. Enjoy all the benefits of an in-house team with all the convenience of outsourcing.
Why Outsource Marketing?
With HexaGroup, our clients amplify their marketing efforts with expertise impossible to find in a single employee or in-house team.
5X more leads in the first year
20% less marketing spend, on average
1 proven methodology
HexaGroup delivers results. We've developed a proven method to grow your business and generate leads as your sole marketing department or supplement to your team. Whether you are growing, rebranding, expanding into a new market or merging, we'll tailor campaigns to meet your objectives and business plan.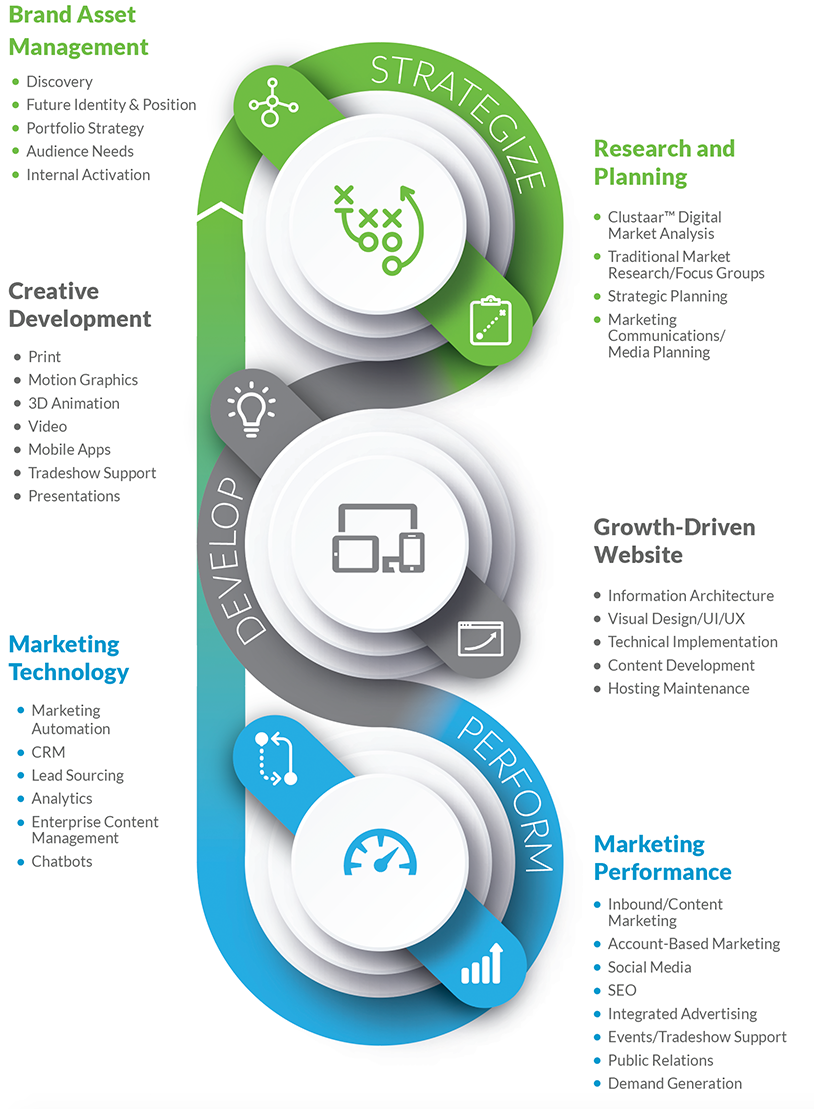 Why Partner with HexaGroup As Your Marketing Support Services Company?

With technical and creative experts in PPC and display campaigns, social media, graphic design, programming, copywriting, data analytics and more, we bring a wealth of knowledge, skills and support that mid-sized businesses rarely have in-house.

Our campaigns have generated buzz, won awards and seen the results that companies expect from their marketing partner. A BBN agency, we customize a local approach, supported by international resources, to grow your business and increase your bottom line.

If you're ready to build your brand strategically with outsourced marketing services, contact our team today to see how we can start growing your company and reaching your goals.