Tell Your Story: Partner with an Award-Winning Sustainable Marketing Agency
Increasingly, sustainability and environmental, social and governance (ESG) criteria are top of mind as potential investors, stakeholders and employees look into a corporation as a future partner. In response, major corporations are doing more than ever to highlight their continuing commitment to social responsibility, employee health and safety, and community engagement and education.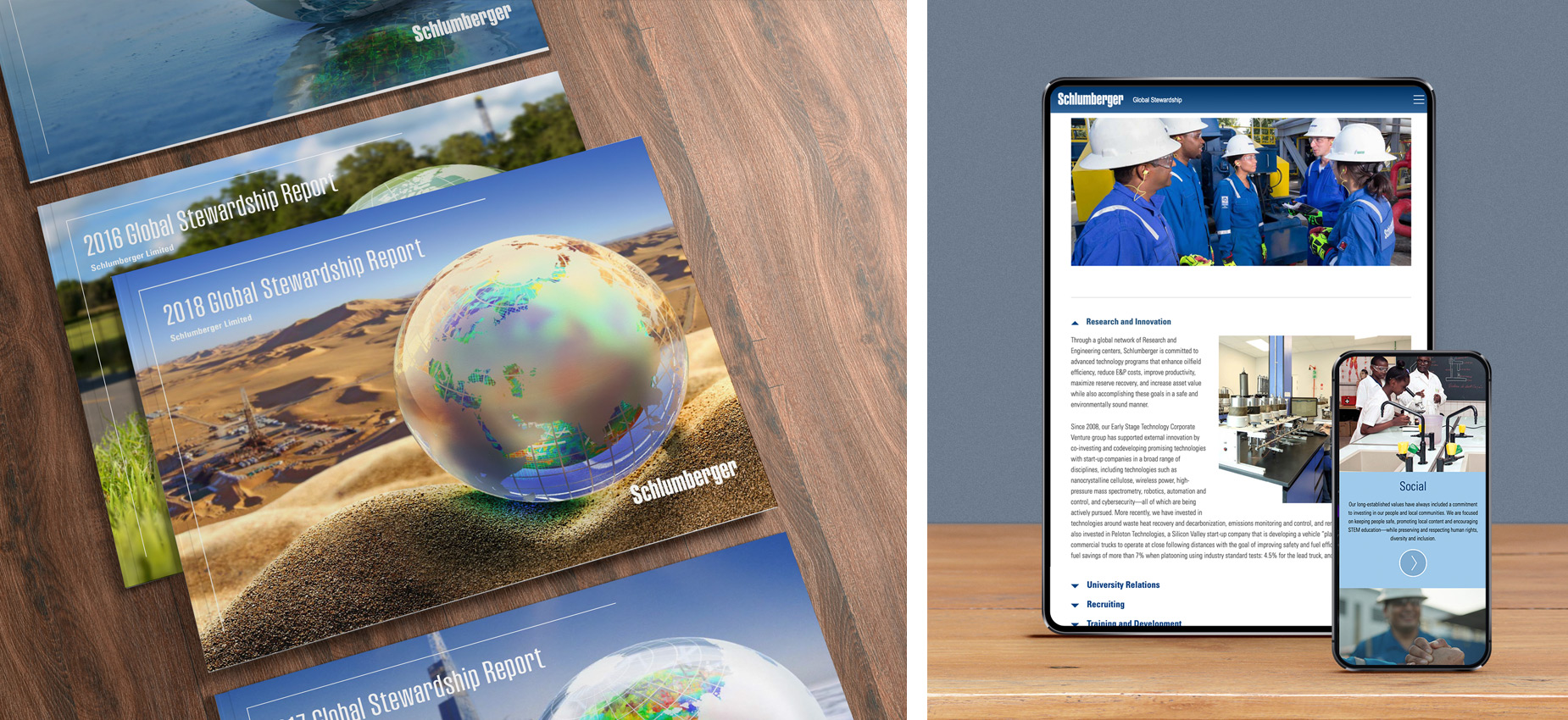 As our sustainability and ESG marketing team works to grow oil and gas companies, we aim to position them as leaders, as innovators and as passionate contributors to the communities in which they conduct business.
Our Work in Global Reporting and Sustainable Marketing
We've partnered with various clients in the oil and gas sector to convey their sustainability efforts, ESG best practices, and corporate generosity through global and G4 reporting initiatives.
In 2014 we collaborated with Schlumberger to launch its first Global Stewardship Report and have continued this annual partnership to showcase the company's environmental performance, community initiatives and recognition for its education, sustainability and innovation endeavors. The 90-page report visually represents a year's worth of Schlumberger's HSE statistics, environmental impact data, employee training details, revenue numbers and charitable contribution totals.
Our deliverables address sustainability challenges in the energy sector such as:
Lower-carbon energy development
Renewable energy sources
Growing energy demands
Energy efficiency
Government relationships
Community and stakeholder engagement
Global economic and social development
Asset integrity
Payment transparency and lobbying
Environmental protection
Climate protection
Human rights
Health and safety
Security
Local community growth
Our Strategy for Global Reporting, Sustainable Marketing and Brand Affinity Campaigns
With decades of expertise in oil and gas and an intimate understanding of changing economies, regulations and public perception, we listen to your goals and set key performance indicators for your reporting document or collateral. We craft a design and messaging to capture your audience's attention, elevate your brand and spotlight your achievements.
For clients looking to increase brand affinity, we'll craft a strategic plan to reach your target audience, convey your core messaging and meet your communication and marketing goals. With memorable campaigns, continual metric monitoring and re-optimization for peak performance, we'll get your brand seen — and your values conveyed — to the people you most want to reach.
Our Deliverables
Your company makes an impact — showcase it. HexaGroup creates stunning visual graphics, reports, videos and web pages to highlight your organization's results at a glance. While you may have plenty of data and facts to share, we want to transform your numbers into a compelling visual story designed for whichever medium you select — print, digital or video.
Why Make Your Sustainability/ESG Data Visual?
Why HexaGroup for ESG Marketing?

At HexaGroup, we combine decades of experience in oil and gas with award-winning marketing and communication skills. We're telling the story of the oil industry in new ways, using new media.

Your company makes an impact on the community. Make HexaGroup your sustainable marketing agency to ensure your endeavors receive the public and media attention they deserve.