We don't have a crystal ball, but we predict these future trends of content marketing.
Well, what a year. 2020 is coming to a merciful end. What did we learn? We discovered that things can go sideways in a big way quickly and that it's better to live in boring times than "exciting" ones.
But we're now in December (or late, late, late March, depending on your POV) and with 2021 in the near distance, it's time to consider the future trends of content marketing in January. A bold move, to be certain.

Will any of these potential content marketing trends come to fruition? We think they will.
Search Your Feelings
2020 is the year we all want to forget, but if there's one lesson worth remembering, it's that empathy is more important than ever. Empathy is something people do, but in an interview with HubSpot, author and CEO Kristin Harper argues that brands can build better relationships with their audiences by fostering empathy and emotional intelligence in general.
That means understanding your customers' unmet needs and pain points while communicating in a clear brand voice that contains personality and values. Or, to strip away the marketing jargon: Listen with curiosity and act with compassion.
Consider this summer when Black Lives Matter and anti-racist activists reached the mainstream and were able to influence demographics and brands that had previously been agnostic to their causes. The brands that stood up – and then paid more than lip service – are ones poised to move forward with stronger identities and purpose.
The brand that goes beyond transactional communication is the brand that establishes loyalty.
Influencers Are Even More … Influential
Traditional production costs are inflated by safety protocols, which is giving influencers – those nimble, lean influencers – even more cachet. 2020 holiday campaigns are leaning on influencers' ability to create content without large teams or budgets and their capacity to reach audiences stuck at home.
In a recent Digiday article, influencer marketing agency execs saw a 20 to 30% increase in influencer campaign requests from 2019. With fewer in-person events to promote and more safety obstacles to traditional video and photoshoots, influencers should be grabbing a bigger piece of the budgeting pie moving forward.
Oh, and that point about empathy, compassion and emotional intelligence above? Collaborating with the right influencers can deliver that in spades.
Video. No, Seriously, Video!
The promise of video has been coming for the majority of the past decade – it might actually be here.
Explainer videos and webinars provide valuable content with strong brand voice in an approachable package. You build stronger connections while showing off your knowledge and product. And with proper form capture, you're bringing in qualified leads for future marketing.
So, don't think that you need super polished videos to be productive, nor do you need to spend months putting videos together.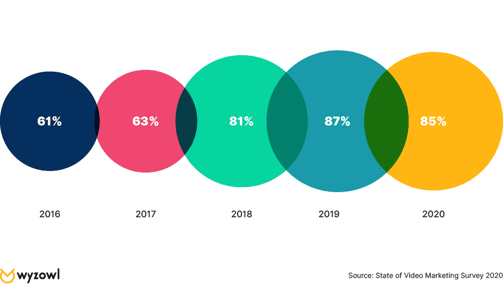 Speaking of webinars, you've likely attended far more in 2020 than you ever imagined. Compared to one-on-ones or in-person events, webinars can reach a large audience at a lower cost, and the opportunity to partner with other presenters allows for excellent audience cross-pollination.
The case for video has arrived. In its annual survey report, Wyzowl notes that 85% of respondents are using video as a marketing tool in 2020 compared to just 61% in 2016. But the real juice of the survey is that 88% in 2020 believe that video gives them a positive return on investment. In 2015? Just 33%.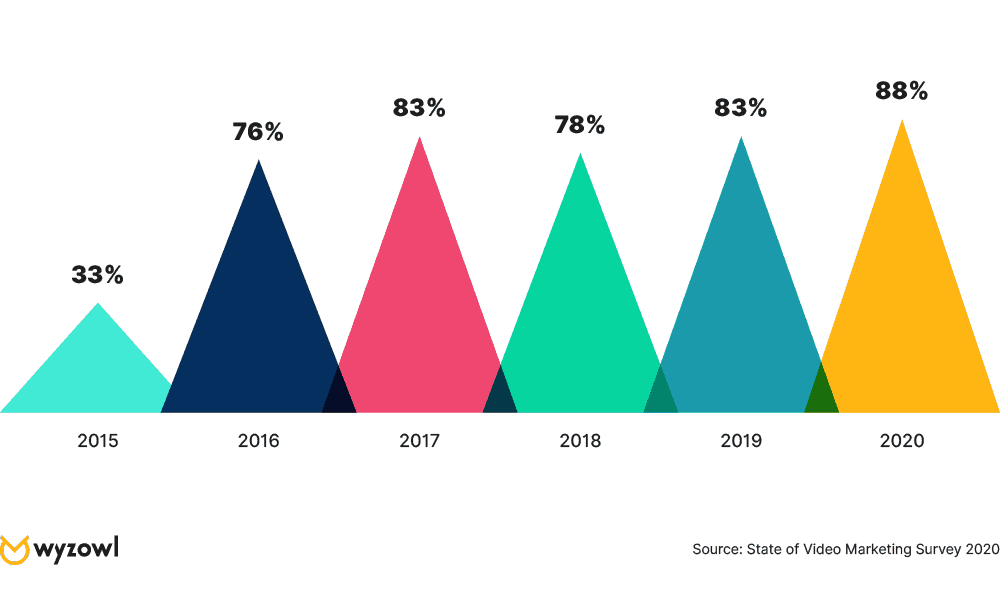 Quickly Showing the ROI of Your Content
ROI: the bane of any content marketer. While we wish every client could accept, "Trust us, you need it," as a reason to build out a content strategy, others can be so data-focused that they miss the forest for the trees when it comes to content. And we get it – money is on the line.
Multi-touch attribution is the current model, but Contently thinks it's developed an easier, more specific way to value your content's ROI. Its content value dashboard calculates what your organic search traffic is worth based on how much it would take a competitor to match your paid ad success.
Contently figures that this leading indicator can show the active value of each piece of content without waiting for a sale to close for the impact to be measured.
Core Web Vitals: Take a Look Under the Hood
Back in May 2020, Google announced that it was developing a new set of metrics called Core Web Vitals that would be a new signal for its search ranking algorithm. They haven't rolled out yet, but expect to see them in 2021, which means your site needs to be prepared.
Core Web Vitals are all about making sure that the user experience is enjoyable by measuring site "speed, responsiveness and visual stability." To that end, there are three site design benchmarks it categorizes for:
Largest Contentful Paint – Measures load speed of the largest piece of content on the page (i.e. image, video). Sites should aim for LCP within 2.5 seconds of when the page begins to load.
First Input Delay – FID measures the time between interacting with a site, such as clicking a link or button, and when the browser processes the action. 100 ms is the goal for FID.
Cumulative Layout Shift – You've experienced this issue but likely didn't have a name for when you go to press a link but the page loads more and suddenly shifts, causing you to click something else. You hate it. Google hates it. Google wants you to fix it on your site. A good cumulative layout shift score is less than 0.1. Of what? Cumulative layout shift metrics, a measurement of how often the layout of a page changes suddenly.
Core Web Vitals aren't the end-all, be-all of Google's algorithm, but you don't want your audience to miss out on your content because your site is getting dinged for fixable issues. And really, these are optimizations you should want on your site.
After all, a site that loads slowly and shifts its layout is going to turn readers off from all of those articles, webinars and posts you spent so much time putting together.
It's Decidedly Undecided
The past year has shown us that predictions only work when we think we know what's coming. The question then becomes: Is 2020 an aberration or a harbinger? The optimist in us hopes for the former, but if it's the latter, then as marketers, we need to recognize that flexibility and agility are even more prized attributes than previously.
And we don't just mean adaptability with clients, but with your team members.
Extend compassion as we navigate the coming year so that growth doesn't come at the expense of well-being.
If marketers have souls – a specious argument, we understand – then we need to do our best to prove it in 2021.
Want to get your 2021 started off right? Contact us today about developing your digital marketing strategy.