What Is Inbound Marketing?
Inbound marketing is a strategy that utilizes many forms of pull marketing – content marketing, blogs, events, SEO, social media and much more – to create brand awareness and attract new business. In contrast to outbound marketing, where marketers attempt to find customers, inbound marketing earns the attention of customers and makes the company easy to be found.
When dealing with lead generation and inbound marketing, you need to ensure that all visitors convert their visit into an action and that most of them are qualified. Bringing leads at all costs through gimmicks will negatively affect your productivity.

Inbound Vs. Outbound Marketing
Outbound marketing is interruption-based with a main objective to find a medium with a large enough following and inconveniently interrupt that following with disassociated ads. It predominantly relies on mass media where communication is only one-way. This needle-in-a-haystack approach counts on the chance that a small percentage of the audience will listen to the interruption and convert into a customer.

With inbound marketing, people can reciprocate and engage with the brand. It is permission-based in that it answers the questions people are asking, circulates those answers around the web in anticipation of the question, and communicates via mediums where the audience has given permission to do so. Examples of these permissions are subscription-based email marketing, social media followers, blog subscribers, webinar attendees and more. Inbound marketing uses a combination of targeted keywords and SEO to answer questions prospects might be asking about your products and industry.

Rather than being in your face with distractions to try and trick you into converting, inbound marketing helps you find what you are looking for and steers you in a direction that you want to go, but may have been unaware of its existence.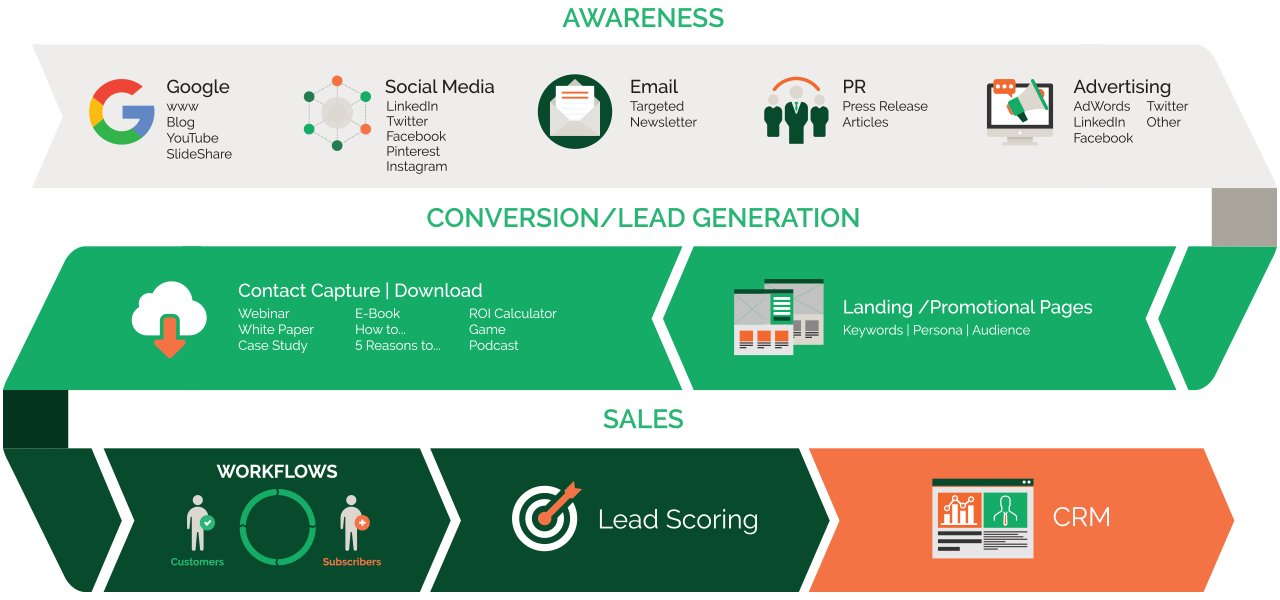 Linear vs. Comprehensive
When running an outbound marketing campaign, it is the marketer, not the buyer, who chooses the subject, timing and channel of interaction-and there are only so many mediums to choose from. Once a strategy is set, there is little to be done to amend it midway down the path. Outbound marketers will then create a unified strategy across the mediums that are most useful to them, put it into action, and wait for the results. Later, an assessment of the data is performed and things are tweaked for the next round.
Inbound marketing starts with a solid foundation: a great website. In order to carry out strong messaging, the site needs to be shipshape and act as an informative hub. Engaging content can then be created for distribution that taps into all avenues, including email for blog subscribers, social media channels, lead nurturing campaigns, etc. With daily attention and analytical review, marketers can decipher what is needed: more content, additional distribution, landing pages, blog posts, optimization or stronger calls-to-action (CTAs). Adjustments are not only accessible, they become a necessity to nurturing your leads and building a strong relationship and reputation through your site.
Barrage vs. Educate
Inbound marketing puts your message in front of your target market and if you employ the right content marketing strategy, they will be compelled by their own curiosity to see what you have to offer. The content is specific, useful and ready for visitors when it is convenient for them. Offering thought leadership proves to be of greater value than a bombardment of ads for slashed prices and deep discounts.
Unmeasured vs. Quantified
Measuring the success of outbound marketing has a high margin of error and is ultimately difficult to measure. A business can ask how the lead heard about them, but the answers are often unreliable. With its linear model of marketing, the measurement of outbound lacks complexity, which leads to a lack of results.

Since everything about inbound marketing is digital, everything is quantifiable. In-place algorithms track the effectiveness of your marketing strategy and what percentage of leads are converting into customers. It allows for analysis of every aspect of your campaigns from the ROI of your various distribution methods to the success of a new CTA button. You will clearly see the path visitors have taken once they enter your site: which blog post they read, pages they viewed and for how long, how they entered the site, and lead generation metrics.

An outbound strategy finishes the minute the budget is turned off, but inbound marketing never stops working to convert leads. Content on your site, like a blog post, will continue to drive traffic months from the time it was published, while you are still adding content to attract more consumers. So why is inbound the better choice? Because it works!
The Latest in Inbound Marketing Technology
A top inbound marketing agency understands the right inbound marketing tools must be used to maximize the effectiveness of your sales funnel. Combining a strong platform with powerful integrated applications dramatically improves the reach and efficiency of your initiatives, from increasing organic traffic and streamlining publishing of information on multiple channels that offers strong analytics to proposing the right content elements to be developed.
An Innovative Inbound Marketing Agency
Unlike traditional outbound marketing methodology, especially those dealing in buying ads, email lists, and cold-calling, inbound marketing methodology deals with developing educational content aligning with your customers' interests and channeling visitors into four categories, turning them into promoters. The graphic below highlights the key steps of the inbound marketing methodology: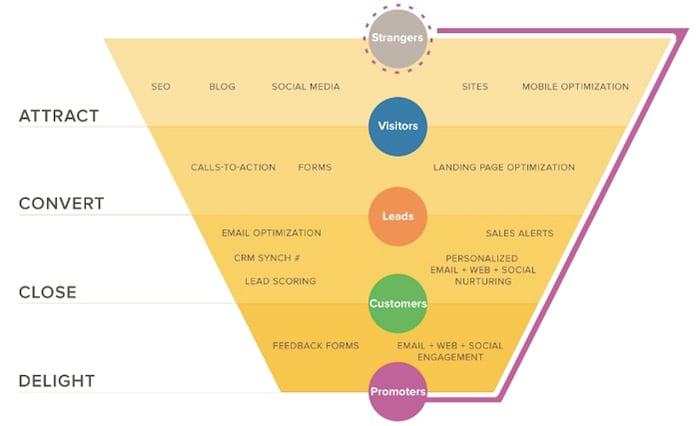 HubSpot Inbound Marketing Platform
One of the most popular platforms used by B2B and B2B inbound marketing agencies and their clients, HubSpot provides the perfect environment for a strong collaboration between client and agency. HubSpot acts as the central publishing, monitoring and reporting hub between the entire marketing team - internal and external. Using the platform and following the methodology significantly increases the overall website traffic by an average of 2.4 times and the number of leads by 5.9 times in the first year.

Partner with a Leading Inbound Marketing Agency
As a HubSpot Gold Agency Partner, HexaGroup executes inbound marketing services to the highest standards. Our consultants are HubSpot certified and have experience developing B2B and B2C content marketing campaigns for small and large businesses alike.
Talk to us about reaching your business goals through a strategic inbound marketing plan.