In the dynamic energy industry, a battle of perceptions rages on, creating a highly turbulent market driven by fear and uncertainty.
While addressing one of them, the great crew change, energy companies need to ensure that all of their activities are done more efficiently, with fewer people and often less-experienced people. The great sales guy that knows everyone in the industry is now retired. The new sales force relies more on inbound marketing tactics than outbound sales activities. Heavier reliance on marketing versus sales and even heavier reliance on digital marketing is now critical. The landscape demands digital marketing as an essential tool for survival, yet only a select few have truly mastered its potential. Most traditional engineering and oil and gas companies tend to rely on internal hires, often non-marketing experts or engineers who lack proficiency in the digital realm. Recognizing the need for expertise, they often resort to outsourcing their digital endeavors. This industry still leans heavily on traditional marketing tactics such as trade publications, trade shows, conferences and on salespeople with rolodexes.
So what are the fundamentals of digital marketing in oil and gas?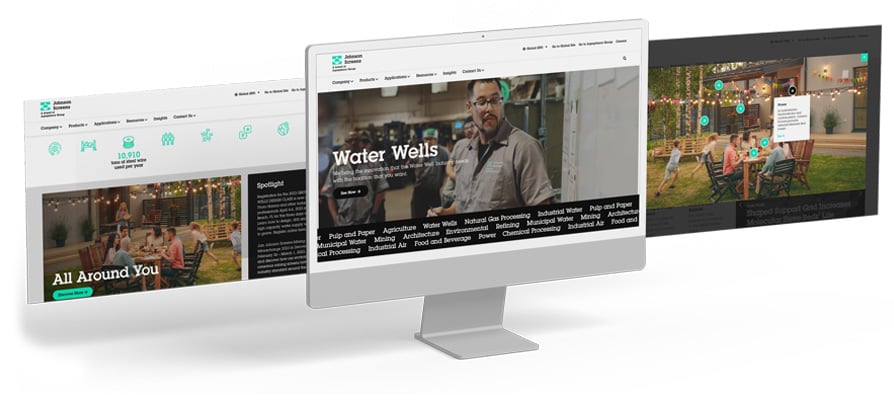 1. Create a Strong Website
Your website is the foundation of your digital marketing strategy. In oil and gas, a very B2B-centric industry, we are witnessing the same evolution that took place in the B2C world and other industries, but with a delay. The market needs to be educated on the value of inbound marketing.
Think Beyond a Brochure
We still see some websites that are nothing more than informational online brochures. While they may include interactive and engaging content such as videos and animations, and be programmed using the latest responsive design methods, they are still online brochures. It is imperative to look at a website as a transactional and automation tool.
Provide Self-Service and Customer Support
The U.S. Steel Tubular sales team was spending 20 percent of their time generating PDF spec sheets. Once automated and available online, that functionality became available 24/7. Website traffic has increased and more opportunities are available to promote new offerings. The sales team can spend valuable time on revenue-generating tasks.

The same concept applies to chatbots, which serve as your first point of direct interaction with an online user. A well-designed chatbot, especially as machine learning becomes increasingly more powerful, will soon be able to conduct a full conversation with your audience and greatly assist in the sales qualification process.
Leverage Personalization and User Accounts
Any functionality that simplifies and/or accelerates your customers' tasks on your website is key. Online ordering capabilities, for example, are a necessity that should be readily available. To improve the user experience, many organizations provide access to valuable "premium content", either marketing collateral for inbound marketing such as white papers and case studies, or client-specific information. From small businesses such as Mogas and Axios Industrial to large oil field services companies like SLB or Plattslive.com, all organizations reap the benefits of implementing personalized initiatives—most notably of which is a speedy return on investment.
Integrate with Third-Party Services
Third-party services and applications make websites more powerful. This includes integrating with CRM systems, inventory management software, marketing automation platforms, and other tools to streamline business processes and enhance efficiency.
Add E-Commerce Capabilities
While the energy industry has been slow to adopt e-commerce, we have developed and witnessed the success of some great initiatives. For example, Matrix.global is an auction platform that automates and provides transparency in the management of storage contracts. The Oilfield Market Place provides an e-commerce platform to source oil and gas equipment. TEAM, Inc. has just launched the first version of its customer portal, soon to become a full e-commerce platform.

When developing a website in the oil and gas industry, be sure to review these recommendations, formulate a solid strategy and realize your website is most likely to be developed in phases. By increasing brand awareness and demand generation while lowering the cost of sales and customer support, your website will contribute to both your company's top and bottom lines.
2. Rely on a Solid Marketing Technology Stack
You're juggling SEO, paid ads, email and social media directed to multiple buyer personas within your target audience. Optimizing these resources within multi-touch marketing campaigns requires a solid marketing technology stack. The right stack will accelerate the development of such campaigns while improving their efficiency, resulting in better ROIs. What should you look for?
You should be able to efficiently edit your website and produce landing pages, emails, e-newsletters, social posts and ads. These tools will allow you to optimize the time of your internal resources or lower the cost of your external marketing partners.
Good Reporting and Analytics Tools
You need the ability to track the ROI of each individual campaign and each tactic within a campaign. This information will lower your individual campaign cost, improve results and help to refine the strategy of future campaigns.
While the right tools are essential, limit the number of tools you are using to avoid complex and costly integrations. We have seen great results with:
HubSpot Marketing - for publishing of all content types, chatbots and powerful reporting

Google Analytics - for website analytics

CallRail - for call tracking

SEMRush - for good research/competitive information and to assist with search engine optimization
As you become more sophisticated, other great tools such as Hotjar will help you refine your website user experience, but we would not recommend it in Phase 1.
3. Leverage Social Media
We're happy to share a few tips here, too.
Do Not Make Unfounded Assumptions
LinkedIn is not the only platform to use in the energy industry. And actually, LinkedIn is becoming so saturated with content that your message is going to be diluted. We always recommend publishing on several platforms.
Case in point: Cougar Drilling Solutions generated some of its best leads from social media activity by publishing a 3D animation on Instagram. Why? Because while Instagram's oil and gas community is significantly smaller than it is on LinkedIn, content is more visible and less diluted.
Don't Discard TikTok
We discovered that recruitment efforts for TEAM, Inc. were very fruitful for inspectors on this platform.
Our recommendations are to clearly define your marketing communications objectives for all your audiences—customers, prospective customers, prospective employees, partners, vendors and investors—and adapt your social strategy to the audience and associated personas.
4. Invest in Search Marketing, Especially SEO
Search Engine Optimization (SEO) is the process of optimizing your website to rank higher in search engine results pages (SERPs). This process is important for driving organic traffic to your website and increasing brand visibility. Note that an "organic" lead is usually 4 times more effective than a "paid" lead. Additionally, while getting ranked in search engines takes at least 3 to 6 months, organic results will be seen for a longer period of time, as compared to a paid search ad that disappears from Google or Bing the day you stop paying.

Be aware that SEO is an investment. It relies heavily on content development—and the current trend is for content to be significantly lengthier and more frequent. We recommend developing a thorough keyword analysis, like Clustaar, first, to ensure all content development efforts are focused in the right direction. This essential keyword analysis will dictate which keywords to build your content around, which keywords to target via paid search and the related budget for paid search. Then, develop strong content that will also be used for promotion on social media and as part of your backlinking strategy. Note that in oil and gas, Bing is a viable search engine so we recommend a 30-70 split between Bing and Google.
5. Make Content King
Developing good and fit-for-purpose content is the solution to successful marketing, but also the biggest challenge in oil and gas. Here are four key recommendations to ensure your digital marketing works:

Establish a Culture of Content Development in Your Company
Incentivize your team for contributing case study information, blogs, articles and white papers.
Gather Conference Schedules and Call for Papers Early
Give your team ample time to develop great content that will be used at the conference. Bonus: That conference content becomes a great piece of premium content for your inbound marketing initiative.
All of your content does not need to be technical in nature. Oil and gas companies (and companies serving the industry) have a tendency to target technical content that requires a high level of expertise. This is unwarranted. Not everything is a white paper.
Vary the Types of Content You Publish
We always recommend a mix of video, webinar recordings, blogs, case studies, white papers and infographics. To stand out, find and use differentiated imagery, promote video-based content and craft interactive social media posts.
6. Use Omnichannel Advertising
Digital advertising helps you target the right audience whether your objectives are to increase brand awareness or generate leads. To cover your bases:
Target the intent of your target audience with a paid search campaign on Google and Bing, based on a solid keyword analysis.

Always have a remarketing and retargeting campaign running.

Target specific buyer personas on social media platforms including LinkedIn.

Optimize contextual ads as a supplement to any ad budget.

Analyze results on a weekly basis and fine-tune the budget based on results of individual tactics.
Digital Marketing Works
Digital marketing is an essential tool for oil and gas companies seeking to remain competitive in today's market. By implementing these best practices, you can attract new customers, build brand awareness and increase revenue. We hope these tips will help guide you as you navigate your digital journey.
Consult an Energy Expert for Digital Marketing & Support
As a top energy marketing agency, HexaGroup provides expert digital marketing strategy and execution for a variety of oil and gas and energy companies. Our industry-focused, tried-and-true approach supports organizations from startups to titans of the energy industry pivoting to renewables. See how our process reduces costs while increasing performance and can generate 500% more leads with 35% less budget.

Ready to delve into digital marketing and learn how to master its potential? Contact HexaGroup today.